How many people believe vacation to be an excuse to kick back, eat what you want to eat and be decadently lazy?  Maybe you have visions of  warm sun, sand between you toes, a good book and a frosty drink with an umbrella.  Instead of spending seven wonderful days planted in a chair, find creative ways to stay healthy and keep moving on vacation.
If you are going on a cruise,  check out if they have an equipment room, offer yoga classes or an exercise class out in the fresh sea air. Maybe the ship stops at exotic ports of call where there is even rock climbing available.
Maybe cruising is not your forte but the beach is.  Grab your yoga mat and enjoy the sunset.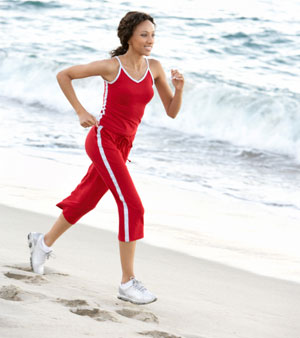 Lace up those sneakers. Did you know that running or walking in soft sand is a killer workout and can burn more calories than walking on hard surfaces? So many options.
The American Heart Association recommends 30-minutes of moderate activity. Thirty minutes a day has the proven health benefits listed below as well as:
Improves blood circulation, which reduces the risk of heart disease
Keeps weight under control
Helps in the battle to quit smoking
Improves blood cholesterol levels
Prevents and manages high blood pressure
Prevents bone loss
Boosts energy level
Helps manage stress
Releases tension
Promotes enthusiasm and optimism
Counters anxiety and depression
Helps you fall asleep faster and sleep more soundly
Improves self-image
Increases muscle strength, increasing the ability to do other physical activities
Provides a way to share an activity with family and friends
Reduces coronary heart disease in women by 30-40 percent
Reduces risk of stroke by 20 percent in moderately active people and by 27 percent in highly active ones
Establishes good heart-healthy habits in children and counters the conditions (obesity, high blood pressure, poor cholesterol levels, poor lifestyle habits, etc.) that lead to heart attack and stroke later in life
Helps delay or prevent chronic illnesses and diseases associated with aging and maintains quality of life and independence longer for seniors
The effort to stay moving during vacation is well worth it and your heart will thank you!
Thriving together,
Karen Wiggins, LPN WC
—–
The views, opinions and positions expressed within these guest posts are those of the author alone and do not represent those of The American Heart Association | American Stroke Association. The accuracy, completeness and validity of any statements made within this article are not guaranteed. We accept no liability for any errors, omissions or representations. The copyright of this content belongs to the author and any liability with regards to infringement of intellectual property rights remains with them.
The American Heart Association's blog is not intended to provide medical advice or treatment. Only your healthcare provider can provide that. The American Heart Association recommends that you consult your healthcare provider regarding your personal health matters. If you think you are having a heart attack, stroke or another emergency, please call 911 immediately.